Overview of the University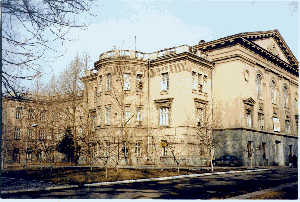 The University offers courses in the following 24 fields: Mathematics, Applied Mathematics, Economical Cybernetics, Physics, Physics of Solids, Biology, Physiology, Law, Social Pedagogy, Psychology, History, Social Work, Physical Culture, Physical Reabilitation, Olympic and Professional Sports, Finance and Credit, Accountancy, Russian Language and Literature, Ukrainian Language and Literature, English Language and Literature, German Language and Literature, French Language and Literature, Interpreting, Economy and Management.
More than 6500 students now attend the University, among them about 4200 full-time students and the rest distance learning students. They attend more than 50 chairs, 35 of which lead to a degree.
The Cultural-Scientific Centre of the Dnieper Region and the Physico-Technological Science Centre are also located on the University campus.
The following are some of the more mature research topics which are presently being conducted by University academic staff:
Elaboration of digital methods in equations of mathematical physics
Mathematical cybernetics
Discrete Mathematics
Physics of solids
Sociology of the cultural sphere
History of Ukraine
History of Medieval Europe
Flora and Fauna: research, protection, rational usage
Problems of education in new social conditions
Socio-legal protection
Slavonic laguages in diachronic development
Strategic and practical management.
Professors and lecturers of the University have close ties with enterprises and organisations in Zaporozhye and its region. Some of the more famous are the Zaporozhstal Steel Works, Zaporozhye Power Station, and several larger enterprises producing consumer electronics and semiconductors. They also have numerous contacts with scientific and educational centres in Ukraine and abroad.
University staff take part in organising and holding national and international conferences, and cooperate with scientists from Ukraine and abroad. For example, exchanges have taken place with USA, Great Britain, Poland, Russia, Bulgaria, Holland, Austria, France and Germany.